Country by Country
This site is still under construction!

Information is available for the following countries:
Click on the map for information concerning wind energy development in individual countries or choose from the following list.
Algeria
Angola
Benin
Botswana
Burkina Faso
Burundi
Cameroon
Cape Verde
Central African Republic
Chad
Congo
Democratic Republic Congo
Djibuti
Egypt
Equatorial Guinea
Eritrea
Ethiopia
Gabon
Gambia
Ghana
Guinea Bissau
Ivory Coast
Kenya
Lesotho
Liberia
Libya
Madagascar
Malawi
Mali
Mauritania
Morocco
Mozambique
Namibia
Niger
Nigeria
Rwanda
Senegal
Sierra Leone
Somalia
South Africa
Sudan
Swasiland
Tanzania
Togo
Tunesia
Uganda
Western Sahara
Zambia
World Wind Energy Association - Publication
WWEA - Wind Energy International 2005/2006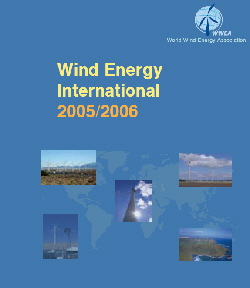 Country reports with latest information from 65 countries providing a comprehensive overview of the status of wind power all over the world
Special reports on education and training, policies, economies and markets, society, integrating renewable energies, small scaled wind and hybrid systems, grid connected systems and wind farms, financing as well as research and development of technology
Contributors are leading wind energy experts from international organisations, industry, science, Governments and Associations - amongst them: BASE, Eurosolar, German Federal Ministry of Environment, ISES, national wind energy associations from all continents, UNESCO, World Bank, World Council for Renewable Energies, Worldwatch Institute, Ammonit, Deutsche Windguard, Grameen Shakti Bank, Hydro Tasmania, REpower, Siemens, Suzlon, WPD, ...
Editor: World Wind Energy Association, 350 pages, published in September 2006 Order form
If you have materials related to wind energy or are involved in the wind energy business in an African country, please contact the webmaster.