Namibia
If you have materials related to wind energy or are involved in the wind energy business in this country please contact the webmaster.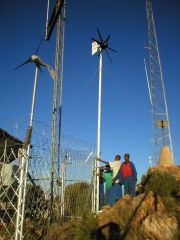 News
First large wind turbine operational
A refurbished WindWorld 220 kW unit was installed at Mile 7 close to Walvis Bay and it belongs to the ErongoRED. It has a diameter of 28 m and a hub height of 31 m.
2005/04/13 Windhoek enters 'dark age' Power rations kick in www.namibian.com.na
GTZ - TERNA Wind Energy Programme
In 1993, the Namibian Ministry of Mines and Energy launched the programme »Promotion of the Use of Renewable Energy Sources in Namibia« which was supported by the Deutsche Gesellschaft für Technische Zusammenarbeit (GTZ) GmbH on behalf of the German Federal Ministry for Economic Cooperation and Development (BMZ). Within the framework of this programme it was decided to evaluate Namibia's wind potential.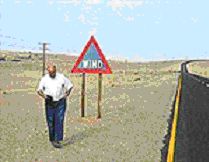 Wind measurements showed that the wind energy potential is good in the regions round the coastal towns of Walvis Bay and Lüderitz. The Namibian Ministry, the electricity utility NamPower and GTZ conducted a wind energy study at these two locations. The activities were carried out within the framework of the GTZ TERNA Wind Energy Programme (www.gtz.de/wind).
The study focused on assessing the technical and economic feasibility of wind farm projects. The costs of alternative supply scenarios, such as importing electricity from South Africa, or increasing local generating capacities by using hydropower or natural gas, were analysed in detail.
The results show good wind power potential and good infrastructural conditions for setting up a wind farm in the region round Lüderitz. From the economic point of view, importing electricity from South Africa is by far the most attractive option. However, as regards certain pollutants (CO2, SO2, NOx, ash) this electricity is burdened with the highest pollutant output per generated kWh in the world. One of Namibia's energy policy goals is to increase electricity generation from domestic sources. In combination with the objective of environmental protection, this led to the decision to support the establishment of a wind farm.
For further information on the Namibia project, see the Project Section at the TERNA web site (www.gtz.de/wind).
Companies
SolTec cc
P.O.Box 315 - Windhoek - Namibia
51 Marconi St., Southern Industrial Area
Tel.: +264 (61) 235646
Fax: +264 (61) 250460
www.soltec.com.na
Documents
Wind Regimes of Africa Comparative Evaluation of Wind Data from Selected Countries. InWEnt Division Environment, Energy and Water (6099 kB PDF)
Links
GTZ - TERNA Wind Energy Programme »GTZ is implementing the TERNA wind energy programme on behalf of the Federal German Ministry for Economic Cooperation and Development (BMZ). It aims to support partners in developing countries to plan and develop wind power projects.« www.gtz.de/wind
Top