Mali
If you have materials related to wind energy or are involved in the wind energy business in this country please contact the webmaster.
GTZ - TERNA Wind Energy Programme
On behalf of the German Federal Ministry for Economic Cooperation and Development (BMZ), the Deutsche Gesellschaft für Technische Zusammenarbeit (GTZ) GmbH supported the Direction de l'Energie (DNE) within the Ministry of Energy in Mali (MMEE) to appraise a wind-diesel project. The activities were carried out within the framework of the GTZ TERNA Wind Energy Programme (www.gtz.de/wind).
The project, which was undertaken between 2001 and 2004 aimed at expanding a diesel-fuelled isolated grid of the provincial capital city of Gao in the northeast of the country (Sahel zone). Wind power plants with a capacity of around 800 kW should be added to the grid. Malian decision-makers were supported in assessing the options for wind-diesel use in an isolated grid with a view to promoting small wind farm projects not only in the city of Gao, but also in other regions with isolated grids.
The results of wind-measurements from March 2001 to October 2003 showed a relatively low wind potential with mean wind velocities of 5.3 m/s at a height of 41 m and 4.7 m/s at a height of 26 m.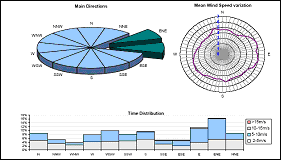 With the assistance of DNE and the power utility Energie du Mali (EDM), GTZ undertook a technical and economic feasibility study. The study was finalised in July 2004 and showed a positive result. Total investment for a 900 kW wind farm is estimated at 1.7 million EUR. A relative high feed-in tariff of approx. 18 €-cents/kWh for the electricity produced is required. However, this level is economically reasonable as the it is below the current cost of diesel electricity generation in Gao of approx. 21 €-cents/kWh (mainly due to the long and difficult transport of diesel fuel to Gao).
Taking into account the positive results of the feasibility study, the Government of Mali wishes to realise the project in Gao and currently searches investors and financing instruments, which are appropriate to implement the project together with the utility EDM.
The activities were carried out within the framework of the GTZ TERNA Wind Energy Programme. For further information on the Mali project (e.g., the complete feasibility study in English, French and German), see the Download Section at the TERNA web site (www.gtz.de/wind).
News
Links
GTZ - TERNA Wind Energy Programme »GTZ is implementing the TERNA wind energy programme on behalf of the Federal German Ministry for Economic Cooperation and Development (BMZ). It aims to support partners in developing countries to plan and develop wind power projects.« www.gtz.de/wind
Mali Folkecenter www.malifolkecenter.org
Documents
Wind Regimes of Africa Comparative Evaluation of Wind Data from Selected Countries. InWEnt Division Environment, Energy and Water (6099 kB PDF)